Differential Adjustment Screws
These Stainless Steel differential screws provide a means for very fine adjustment motion with out the need to use very fragile fine pitch threads. Since both of the screw threads are cut in the same machine set-up the thread helix diameters are concentric to 0.0002"
For discounts and detail on the products click the product you want to know more about.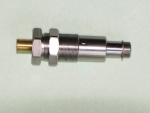 Differential Screw complete actuator assembly ready to use.